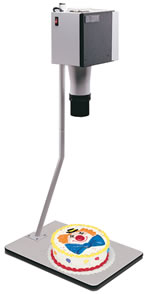 At the big-name chain store where I shop a custom-decorated half-sheet birthday cake costs $35.00. I know this because I'm the official birthday-cake baker in our family, and last year my granddaughter wanted a Hello Kitty face painted on her cake. Not sure I could pull off such a request and not wanting to disappoint a four-year old I thought I might hand this one over to the pros. In a poll taken by Cafemom nearly 50 percent of those who answered were willing to spend 100 to 300 hundred dollars to throw a kid's party (not including gifts). The numbers may be a little shocking at first, but if a cake alone costs 30 dollars it's no wonder the costs are so high.
So what's a thrifty homebaker to do? In the case of Hello Kitty I did my best free-handing with craft-store cake paints and was glad my granddaughter was too happy to notice her kitty had a lopsided face and eyes that were decidedly different sizes and shapes. Of course part of the charm of a homemade item is the imperfections, but that experience got me wondering how the pros do such a good job of painting words and images on top of baked goods. It didn't take long to find the answer – a cake decorating projector.
With a projecting machine anyone can shine an image directly onto their cake then essentially trace the design with edible paints or frosting from a pastry bag. A projector doesn't work for portraits, it's best for designs with a bold outline. As cool as I thought this invention was I didn't think it was something I'd ever invest in, especially for kids' birthday cakes, but when I talked about this miracle machine with a friend she suggested we chip on one and use it together.
We decided on a Kopykake 300XK Cake Decorating Projector because it got great reviews and seemed to be the perfect size for our needs. The first project we tried together was holiday sugar cookies with a bunny image painted on them – something I never would have taken the time to do if I had to free-hand each one or mess with transfers.  Then it was time for my grandson's birthday and the projector made it so easy to paint Lego trademarks on his block-shaped cake. There was a bit of a learning curve with the machine but once we got going and saw the versatility we started doing all sorts of crafts together. One of my favorite ways to use it is for papercrafting, I can shrink or enlarge designs right at home and project them directly onto card stock for greeting cards or scrapbooking. The only really difficult thing about the projector was sharing it so I reimbursed my friend for her half and she bought her own.
Next month my youngest daughter is getting married, and we're making perfectly monogrammed cookies for her wedding favors thanks to my cake projector. I feel like I've paid for the machine several times over with all of the projects, gifts and goodies it's allowed me to create, and I've really stretched my crafting repertoire. One thing for sure, no matter what the grandkids want on the birthday cakes this grandma is never going to worry about whether or not she can handle their requests. She can.
Until next time,
Tammi B.
www.MadisonArtShop.com